Home for the Holidays With Starbucks®
This shop has been compensated by Collective Bias, Inc. and Starbucks®. As always, all opinions are mine alone. #SavorHolidayFlavors #CollectiveBias
Who else has noticed that you seem to have a lot more house guests once you bring a tiny human into the world? Seriously, y'all. We've seen our entire family under our roof more in the last two months than we have in the last five years since Sean and I first moved in together! I always thought I would secretly hate having people in our house all the time, and don't get me wrong … I definitely do still need my privacy and alone time, but there's something so sweet about spending time together in your own space. It also doesn't hurt that I can totally blame my less than tidy home on snuggling my Emmy girl!
The one thing that I can always count on to make our guests feel more at home is a warm cup of Starbucks® coffee to put in their hand. It might seem small, but there's something about welcoming family in from the cold and pouring them a cup of freshly brewed coffee that sets a "stay awhile" kind of vibe.. It's definitely no secret that I'm not a fan of straight coffee myself (flavored lattes for life), but 
Starbucks® Peppermint Mocha Flavored ground coffee
is something that I always have on hand for this very reason. I mean, come on, who doesn't love the smell of Starbucks® Peppermint Mocha Flavored ground coffee!?
This little trick isn't just for helping your guests that are only staying an hour or two, but it's the perfect way to make your overnight guests feel right at home, too. The only people we've hosted since we've moved into our new home are my little sisters, and they can totally vouch for feeling as comfortable as can be when they wake up to a fresh cup of coffee in bed! I mean, let's be real here, I'm not really the over the top perfect hostess kind of gal, so anything that makes a big impact with little effort is totally my cup of tea (or coffee).
One of the things on my to-do list for the new year is to set up a full drink bar in our kitchen complete with a Keurig®, Starbucks® coffee, hot tea, and all of the fixings! Here's a little inspiration list that I'm using to put together the perfect little corner that will hopefully inspire you to invite friends and family over for a warm drink and some good conversation a little more often!
FIND THE PERFECT SPACE
Oh, how I wish that I had room in our kitchen for a cute little coffee cart! I'll probably end up using one of the corners on top of our kitchen cabinet for a drink station, but these are some of my favorite carts if you end up going that route!

LAYER FUNCTIONAL ACCESORIES
I have so many cute things in our kitchen that would work perfectly to style a drink station, but a mini potted succulent doesn't help much when you're trying to make the perfect cup of coffee! Things like labeled storage containers for sugar, milk, cream, honey, cinnamon sticks, and spoons make a world of difference in the style and functionality of your space!

ALL THE CUTE MUGS
I mean, let's be honest … half the reason I want to put together a drink station is for a totally valid excuse to buy a hundred more cute mugs. A warm drink always tastes better when you're drinking it out of something pretty!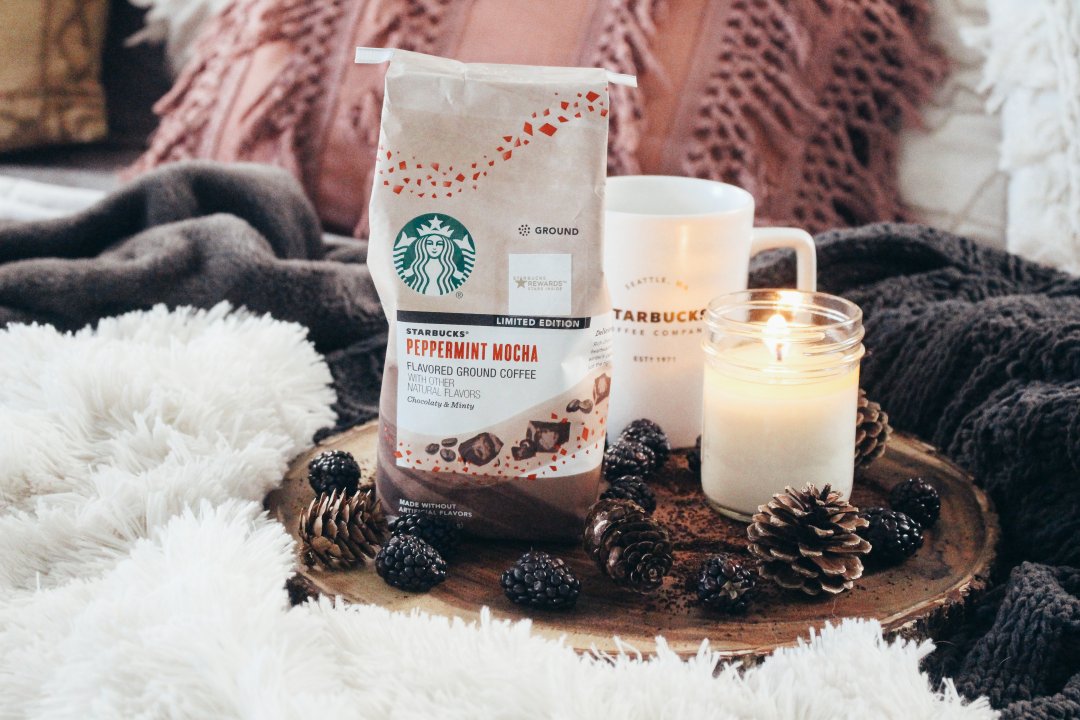 It wouldn't really be a good drink station without the drinks, now would it? I'll be stocking mine with freshly ground coffee
(Starbucks® Peppermint Mocha Flavored Ground Coffee
is a must have!), hot tea bags (english breakfast tea is my fave), and a pitcher that I can fill with fresh ice water or sweet tea when I know we have guests on their way!
I've gotta know - how do you (almost effortlessly) makes your guests feel more at home? Do you have a stocked drink station, or are you in the planning phase like me? Let's chat about it over on Instagram! I hope this post served as a little bit of inspiration for you to spend more time celebrating being together with the people in your life! Happy holidays, friends.
P.S. I almost forgot! If you're a huge fan of Starbucks® like I clearly am, they have an awesome deal at Walmart just for you! You can get 75 bonus stars when you pick up 3 qualifying Starbucks® packaged coffee (10-20oz.), Starbucks® K-Cup® packs (9-32ct.), VIA® Instant (5-8ct.), Starbucks® Syrups (12.17oz.), or Starbucks® Cookie Straw packs (9.17oz.) products in a single transaction from until 12/26/17 when you upload your receipt at
Starbucks-stars.com!
Chelcey Tate
Chelcey Tate is a photographer, blogger and graphic designer based in Louisville, KY.
Follow